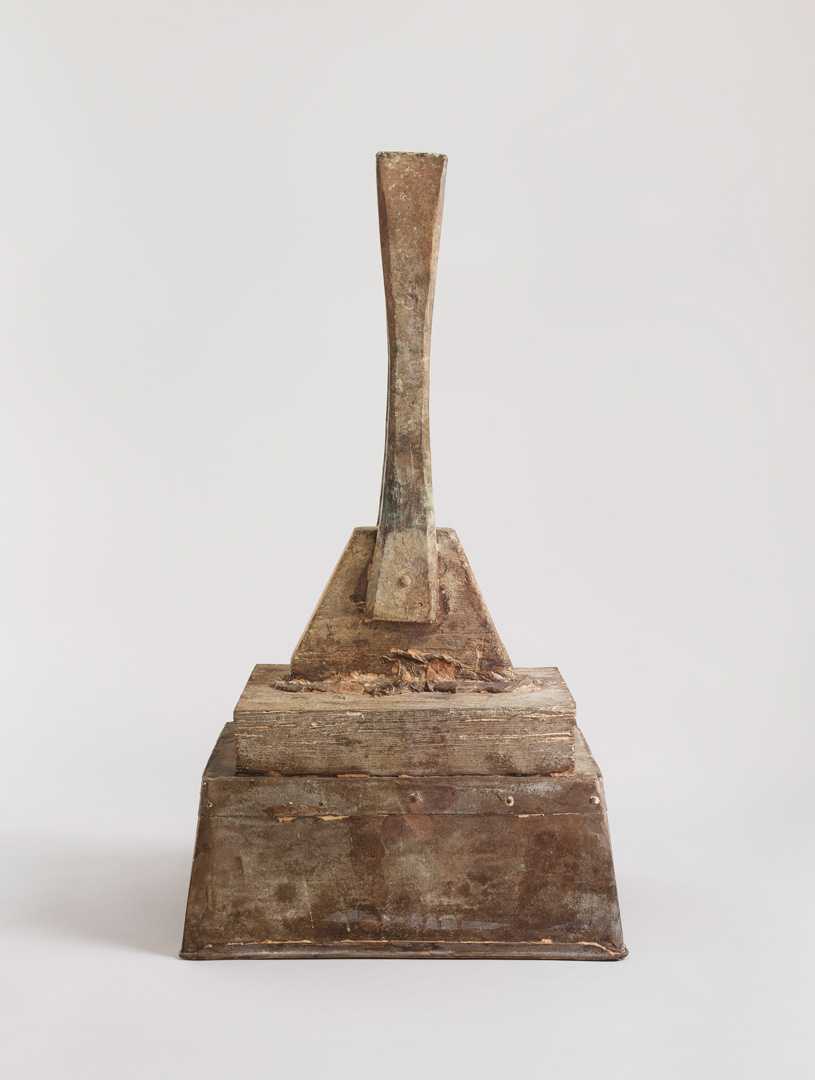 2006
bronze
44 x 24 x 14 in. (111.8 x 61 x 35.6 cm)
Like personal artifacts, Cy Twombly's sculptures are developed from materials collected over many years from various locations where Twombly has lived. Before cast in bronze and coated with a soft, off-white patina, found objects such as wood or metal parts are combined with clay or plaster. The sculptures often take on the surface qualities of these materials; captured in the final metal alloy is the textured grain of a piece of weathered wood or of roughly smeared plaster. Like the artist's radiant and expansive paintings, Twombly's sculptures achieve a lightness that is at once airy and luminous, belying the solidity and weight of their materials.
Cy Twombly moved from New York to Italy in 1958 and lived and worked there for decades. The Mediterranean landscape, both the physical and the literary environments, was fertile ground for Twombly's six-decade-long meditation on gesture, image, symbol, and beauty. Twombly began his art career in New York and though influenced by abstract expressionism, he quickly sought techniques of painting beyond the compositional restrictions of cubism and the existential posturings of New York painting at that time.
 
In 1952, Twombly and Robert Rauschenberg took a six-month journey to Italy and North Africa. During the seminal trip, Twombly absorbed Mediterranean culture as well as made compositional breakthroughs in his North African sketchbooks. The paintings made on his return to New York feature graffiti-like constellations of images and marks that combine and recombine across a surface that never locks into a compositional stasis. Twombly literally carved into wet surfaces of paint with palette knife and pencil, aggressively vandalizing and reconfiguring the meaning of painting.
 
When Twombly left for Rome, color and interactions with myth and ancient texts entered into his work. Ilium (One Morning Ten Years Later) [Part I], 1964, is one panel of a triptych. The piece loosely records the aftermath of the battle of Troy and bears many of Twombly's stylistic hallmarks—light washy color recalling the light of the Italian countryside and the symbolic equivalency of the written word and the drawn object, full of both directional visual impulse and movement and connotations of meaning.
 
Nini's Painting [Rome], 1971, is part of a series of monumental works completed by Twombly in the early 1970s that, according to some critics, were inspired by both a trip to a Jackson Pollock retrospective and the themes of repetition emerging in minimalist art. Nini's Painting [Rome] is a personal title—it is a tribute to Twombly's friend Nini Pirandello, relative of the playwright Luigi Pirandello. The nine-foot canvas features a repetitive scrawl that maps the surface of the work as well as sets it into motion. The work recalls the gesture and all-over composition of a Pollock, though instead of uniting into a complex field or image, Nini's Painting [Rome] reads as a record of Twombly's rhythmic markings.