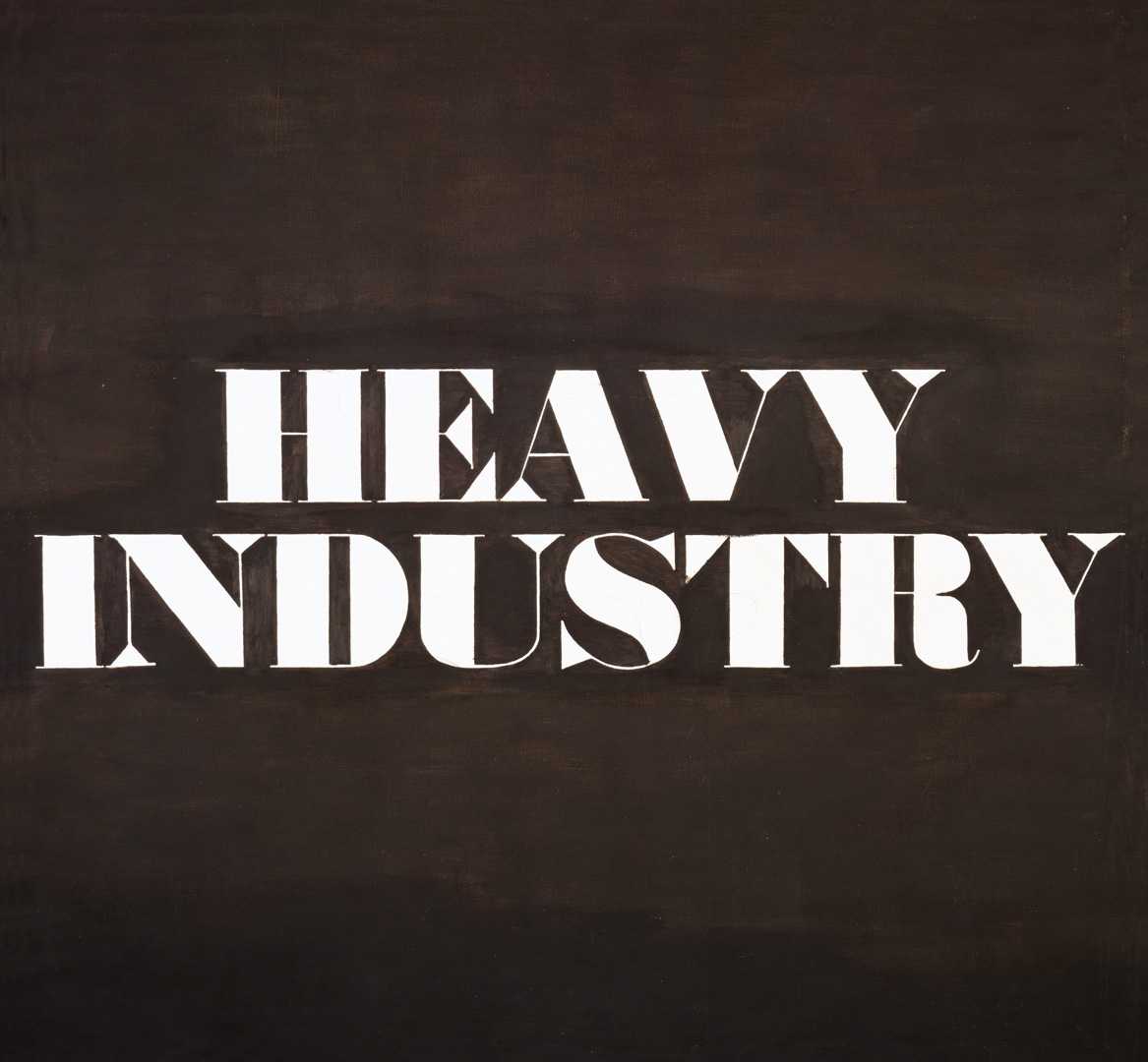 1962
oil and pencil on canvas
67 x 71 5/8 in. (170.18 x 181.93 cm)
STERLING RUBY
Ed Ruscha is the artist I admire the most for his use of titles and text.
Hello, I am Sterling Ruby. I'm an artist in the Broad Collection.
Ed makes text graphic. He creates mantras out of seemingly unassociated words and turns them into visual abstractions. Often the background painting will have nothing to do with the foreground text.
[AUDIO: a low, steady beat ending with chiming notes plays under the narrator's first sentence]
NARRATOR
Ace, Radio, Honk, and Boss. You can see these words—words Ruscha has used in his other paintings—inscribed under Heavy Industry. This is a used canvas and Ruscha wants you to know it. He turned the canvas 90 degrees and painted it again. The blacks are brushy and the words themselves imperfect.
STERLING RUBY
Is Heavy Industry an American portrait of manufacturing? Is it really about industry and, if so, what industry? Is it the automotive industry? The prison industry? The movie industry? The art industry?
NARRATOR
The phrase is both personal and universal. Straightforward and evocative.
STERLING RUBY
Whatever you take from it, its confusing simplicity has a real air of statement to it.
Ed Ruscha was born in 1937 in Omaha, Nebraska, and grew up in Oklahoma City. In 1956, he took Route 66 to California, which would become a central part of his story as an artist. Settling in Los Angeles, he studied art at Chouinard Art Institute (now California Institute of the Arts) and had an early job as a commercial illustrator. In the 1960s, inspired by artists like Raymond Hains, René Magritte, Jasper Johns, and Kurt Schwitters, Ruscha became a vibrant part of the art scene surrounding Ferus Gallery in Los Angeles. 
 
Paramount to Ruscha's work is that the changing nature of language —as its meaning shifts as a function of font, color, composition, and other visual effects—can be a subject for painting and drawing.  He often repeats the same phrase or word in artworks over the course of many years. Often, his words and phrases have a vernacular, familiar tone, but an unfamiliar reference. Along the way, Ruscha teases out and accumulates new meanings from the expression. Though words typically take a secondary role in the history of art, Ruscha places language at the center of his practice, reflecting on contemporary life, especially in Los Angeles, with candor and humor.  
Ruscha's interest in language is frequently coupled with an interest in landscape, especially that of the American west. His words appear on road signs, buildings, and mountains, and across open skies and horizons. At times, words are strangely present through their disappearance. In early photographic work, Ruscha created documentary images and books full of swimming pools, parking lots, buildings on Sunset Boulevard, gas stations, and many other features of L.A. life. In his paintings and drawings, these same subjects combine with language to poetically evoke the changing fabric of the city through themes of evolution and destruction.  
Ruscha has been living and working in the L.A.  area for over sixty years. Through his innovative approach to painting, drawing, and photography, Ruscha has influenced artists worldwide and is considered to be one of the most important figures in contemporary art today.