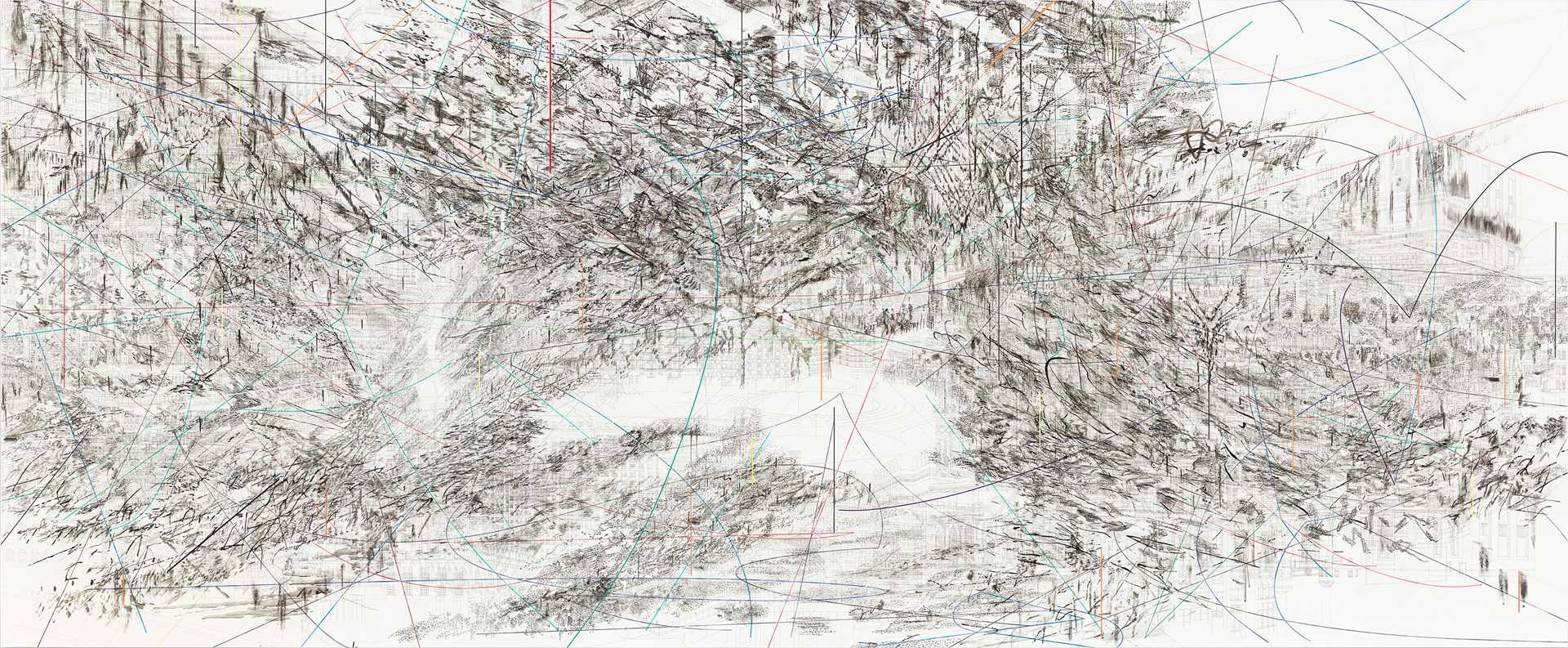 2013
ink and acrylic on canvas
120 x 288 in. (304.8 x 731.52 cm)
This work is a map. Not an ordinary map of a place, but rather, a story map, of both time and space.
This large work, Cairo, is by Julie Mehretu.
Working in pencil, pen, ink and paints, Julie makes large, detailed landscapes by layering and then removing elements like maps, charts, blueprints and buildings on her canvas.
As she builds and bulldozes, her work speaks about the history of a place--the city of Cairo in Egypt to be exact--but also wonders about its future.
In Cairo, Julie is showing us both the [SOUNDFX: sand blowing] ancient city, with sand from the Sahara blowing around it and its buildings. But we're also seeing the more [SOUNDFX: marching rally sounds] recent revolution in the city, where the people who lived there demanded change from their government, through protests and riots.
The contrasts in Cairo give us a lot to think about.
The ancient city, looked at through current, contemporary eyes and the massive painting - that holds many minute details.
In her monumental paintings, Julie Mehretu begins with controlled public spaces, using elements of mapping and architectural drawing to create dense landscapes. Cairo presents the ancient Egyptian city caught in a furious wind blowing off the Sahara, its structures and history extending into vectors. Simultaneously, the work portrays Cairo as the contemporary, revolutionary city in the political spotlight as the seat of the Arab Spring, raising the world's consciousness about government suppression and citizen-led change. In the middle of the work is a rendering of Tahrir Square, the site of several historical protests, which came to symbolize democracy during the 2011 uprisings. Mehretu's version is stripped down to the most basic details: an oblique circle denoting the grassy center surrounded by light posts and concentric traffic lanes. The painting is devoid of people, so landmarks and cityscapes stand in for collective actions as locations of both past events and potential future resistance.
Born in Ethiopia in 1970, Julie Mehretu was raised in East Lansing, Michigan. Since 1999, she has lived and worked in New York, establishing herself as one of the most exciting painters in the United States. Like other artists in The Broad collection, including Franz Ackermann, Matthew Ritchie, and Mark Bradford, Mehretu mines the history of abstract expressionism. Using its all-over compositions and networked lines and webs, she considers contemporary life, from the sprawling growth of cities to the exponential expansion of information in the digital age. Mehretu's work features multiple layers of visual texture, alternating between drawing and painting to build up great density and depth.
 
Mehretu produces her works much in the way a city gathers its memories. She starts each painting with a geometric structure that serves as the basic anchor and organization for the image. From that point on, Mehretu's method is intuitive: she adds and subtracts images and drawings according to how she envisions the painting's resolution. These actions are the literal history of Mehretu's process—some marks exist in the completed work, other marks appear only as ghosts or memories that have partially disappeared. The highly worked finished piece acts as a timeline of weather and events, as if it is the unexpected result of the original geometry, the outcome of something that did not quite go according to plan.
 
Cairo, 2013, portrays the ancient Egyptian city caught in a furious wind blowing off the Sahara, its structures and history surging and extending into multiple vectors of black-and-white drawing. At ten feet tall and twenty-four feet in length, the immense work registers as a physical force, asserting itself as a unified mass. However, the concomitant detailing, the obvious care shown to each individual moment on the canvas, allows for lush viewing over a long period of time. Mehretu's Cairo is more than a map, more than a picture; it is an attempt to express a city's life, its mixed forces, and the full complication of its continued existence.